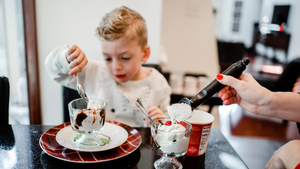 Only Ice Cream Scoop With A Lifetime Warranty.
WHAT CONSUMERS ARE SAYING
THE HAPPY SCOOP
Family-friendly + fun kitchenware with a pow of festivity. Heirloom quality. Dishwasher-safe. And a design that's modern and oh-so-cute.
Shop Now!
SMILES
Happyware SMILES® are festive knobs that connect to the Happy Scoop. Why not put a little yay in your day?
Shop Now!
COMING SOON
Happyware BAR-WARE [Fall 2023)
Happyware BBQ-WARE [Spring 2024]
Happyware SERV-WARE [Fall 2024]
THE HAPPYWARE COMPANY
It's funny how something as simple as an ice cream scoop can make you smile. But when it's smiling back at you, it's hard not to feel, well...happy. Meet Happyware Company, a USA company making kitchen gadgets and tools right here in the USA. Like a punctuation mark on life's best moments, and a reason to pause, smile and give yourself another scoop.
The Happyware Co. Celebrate happily.